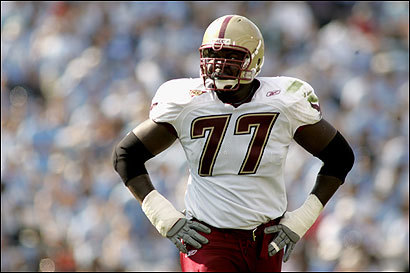 No doubt that the Lions need to protect Jon Kitna, or whoever is under center this season, and the Lions addressed that issue on Saturday by taking OT Gosder Cherilus with the 17th pick in the 2008 NFL Draft.  He is a beast at 6-6, 314 pounds, and has a frame that can help out the team's O-line a great deal.  His draft stock went up a great deal over the past month, and the Lions saw enough from workouts and in talking to him to take the native from Haiti.
Here is a scouting report on Cherilus from NFLdraftcountdown.com
Strengths:
Has excellent size and a huge frame with long arms…Strong and powerful..Gets a great push as a run blocker…Decent athlete…Has nimble feet..Mobile and can get to the second level…Very smart with great awareness…Nice balance…He is stout at the point of attack…Once he locks on the battle's over…A hard worker with top intangibles…Has a ton of experience against top-notch competition…Offers some versatility..Hails from a program that's known for producing NFL offensive linemen.
Weaknesses:
Has some trouble with speedy edge rushers…May lack a killer instinct..Has lapses with his leverage and will play too high at times…Most likely won't be a left tackle in the pros…Didn't have a great senior year..Had some minor off-the-field trouble.
Notes:
Name is pronounced "GOZ-der SHARE-uh-luss"…Born in Haiti…A four-year starter in the ACC…Started 37 consecutive games at right tackle but he moved to the left side as a senior and had some struggles…Was arrested and charged with assault and battery in July of 2007 in connection with a bar fight, although Cherilus claims he was acting as a peacemaker…Not flashy but has the physical tools and should start almost immediately..Prototypical right tackle who should enjoy a long career.
And here is ESPN's take on Cherilus:
We understand the pick in the sense that Detroit needs an offensive tackle. Still, we are surprised to see Cherilus come off the board before Pittsburgh's Jeff Otah. Although they are both expected to be effective run-blockers at the NFL level, Cherilus is more of a developmental prospect in our opinion. The greatest concern with him is that he needs to learn to keep his pad level low and get under defensive ends. On the other hand, he's capable of becoming an excellent starter on the right side if he progresses as expected.