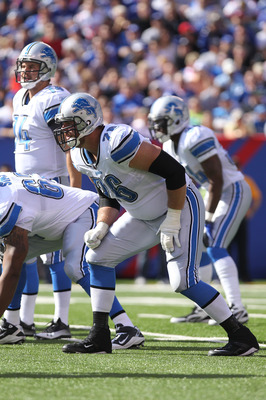 No position group is as polarizing amongst Lions' fans as the offensive line over the last decade.  All throughout the 1990's when the Lions were perennial playoff contenders they had Pro Bowl players like Lomas Brown, Kevin Glover and Jeff Hartings (Hartings never made a Pro Bowl as a member of the Lions.)  The Lions have not had a Pro Bowl offensive lineman since Glover went in 1997.
The line has taken a lot of criticism, some warranted some not, over the last several years but the Lions made strides towards building a solid unit in 2010.  Many experts and national writers pin the blame for the quarterback injuries on the Lions' offensive line, but that is not entirely true.
Stafford's first major injury was his knee in 2009 and he suffered that injury while running around in the pocket and getting horse collared when he finally started to scramble.  His shoulder injury in 2009 came after he scrambled around in the pocket for 6 seconds before heaving the ball downfield.  His third injury was due to a missed assignment that left Julius Peppers unblocked, but even then Stafford double pumped before trying to throw the ball.  Finally, his re-aggravated shoulder injury came on a late hit out of bounds followed by a hit suffered when he tried to buy too much time in the pocket and then finally started to scramble.  He was dragged down after the defense had time to catch up.  Shaun Hill's broken arm came on an illegal hit that went unflagged and Drew Stanton hurt his shoulder while running downfield.
Only one of those injuries was a direct result of poor line play.  Stafford has a never say die attitude where he doesn't like to give up on a play.  His rookie year he would force throws into coverage, in his second year he matured to the point that he didn't make stupid throws, but he'd run around in the pocket.  Stafford needs to take the next step and either scramble or throw it away instead of trying to buy so much time in the pocket. 
The offensive line does need improvement, but they are not solely to blame for all the injuries to the quarterbacks.
Jeff Backus:Lions' fans hate Jeff Backus but the front office and coaches love him.  Given the track record of the front office, I would say it's time the fans ease their criticism of Backus.  Backus has never been a Willie Roaf or Jonathan Ogden type, a physically dominating specimen that blocks out the sun, but Backus has been a solid starter year in and year out for the last decade.  Backus' 2010 season will be known for the only major mistake he made all year, missing his assignment on Julius Peppers.  Bakcus is not a great athlete and doesn't have the ideal left tackle frame, but he is tough and uses great technique.  If Backus were a couple inches taller and his arms were an inch or two longer, he'd be one of the best left tackles in the game.  Because he lacks the ideal frame he's forced to rely more on technique which leaves him vulnerable to some of the premier pass rushers.  Despite that Backus faced Trent Cole, Peppers, Jared Allen, Clay Matthews, Cameron Wake, Brian Orakpo, Justin Tuck, Osi Umenyiora and Demarcus Ware and held his own.  In fact, Bob McGinn of the Milwaukee Journal Sentinel interviewed scouts from all the NFC North teams and had them rate each starter in the division.  Jeff Backus was the highest ranked tackle in the division over Pro Bowlers Chad Clifton and Bryant McKinnie.  2011 Outlook: Backus will be back as the starter, but 2011 is the last year on his contract and he is starting to get up there in age.
Rob Sims: Sims did all that was asked of him in 2010 which was enter the Bermuda Triangle of the Lions' line and not get lost.  Sims did what 15 others failed to do, and that was play well at left guard.  Sims is one of the better young guards in the league but didn't have as great a season as he did in 2009.  That can be attributed to getting accustomed to a new offense and new linemates.  By the end of the season Sims was playing at a very high level and was flashing the promise he showed in 2009.  2011 Outlook: Sims will be the starter and one of the foundations of the Lions' line.  He should show improvement with more time to build chemistry with his teammates.
Dominic Raiola:If fans hate Backus, a new word that is stronger than hate needs to be invented for Raiola.  Truth be told, I have been a Raiola supporter for years and the front office and coaches have as well.  Raiola understands pass protection schemes and rarely blows a protection call.  He is athletic and is one of the better pulling centers in the league.  He is a fiery leader and has the temperament that coaches love in a lineman.  However, Raiola gets overpowered at the point of attack, he hasn't looked as good blocking in the open field, has been prone to stupid penalties and he seems to be on the decline.  Tom Kowalski of MLive.com says that most scouts he talks to are split on Raiola, some love him and some think he's not very good.  It's not often you see that type of gap in opinion between evaluators.  2011 Outlook:I think Raiola's strengths outweigh his weaknesses in the eyes of the coaching staff, but I also can see them wanting to upgrade after they fill more pressing needs.  I don't believe Raiola is going anywhere in 2011, but I can see the Lions drafting his replacement in 2011 or 2012.
Stephen Peterman: Peterman graded out as a premier guard in 2009 before his season ended due to injury.  In 2010, Peterman suffered an injury that wasn't bad enough to sit out, but hampered him enough that he was a shell of himself.  Peterman was a third round pick of the Cowboys, but they lost patience with his injury issues and the Lions may be nearing that point as well.  When healthy Peterman is a nasty blocker with good drive and power, but his foot injury robbed him of his power and hurt his footwork.  He was the most frequently penalized lineman because he was jumping snap counts and holding to try to compensate for the injury.  The Lions didn't bench him because they didn't have a better option on the roster, that may change in 2011.  2011 Outlook: Peterman only missed nine games in the last three years, but has been banged up far more often.  I expect the Lions to either sign or draft some competition/depth behind Peterman to protect themselves against further injuries.
Gosder Cherilus: Gosder fought inconsistency in his first two seasons and was faced with a make or break 2010.  Cherilus definitely made it, but then his knee broke throwing his future back into jeopardy.  Cherilus has the size, build and demeanor that coaches look for in a right tackle and he finally got the mental aspect of it down as well.  Cherlius went on the IR late in the year with a knee injury that required microfracture surgery.  The recovery rate has improved over the last few years, but that is still a major surgery with a complicated recovery.  2011 Outlook:The Lions drafted competition for Cherilus in the 2010 draft and he responded with a strong year.  If he is 100% the right tackle job is his to lose.
Corey Hilliard: The Lions signed Hilliard off the Browns practice squad in 2009 and he earned a roster spot with an excellent training camp and preseason.  Hilliard earned his roster spot in August and earned the starting right tackle spot when Cherilus went down.  Hilliard had a couple of strong games and he  had some inconsistent performances as well, but he validated the coaches faith in him and took advantage of the opportunity.  2011 Outlook:If the Lions draft a tackle, Hilliard will face an uphill battle to make the roster.  Backus, Jason Fox and Cherilus all have slots locked up.  The Lions hope Fox is Backus' heir, but if not he will most likely end up at right tackle forcing Hilliard to be the backup at left and right tackle which I'm not sure he's capable of.
Jason Fox: Fox played sparingly in 2010 and that's what the Lions were hoping for.  They wanted to give Fox a "redshirt" year to completely heal from his knee injury suffered in college and also wanted to give him time to bulk up and learn the pro game.  2011 Outlook:Fox could either reprise his role as backup swing tackle or the Lions could seriously groom him to replace Backus.  The third option is they have him focus on right tackle in case Cherilus doesn't make it back.
Dylan Gandy: Gandy played a lot in 2009, but saw his playing time plummet as the Lions line stayed relatively healthy in 2010.  Gandy is nothing flashy and most likely will never be a starter, but he is versatile since he can play all three interior line positions and he's young enough that he has room for growth.  2011 Outlook:I think the Lions view him as a center first and guard second, so if they draft a center he becomes expendable.  If the Lions draft a tackle or guard, Gandy should be back in his same role.
2011 Offseason:  One thing is almost certain, the Lions will draft a lineman in the 2011 draft.  Good offensive lines are built by adding young developmental players behind your starters.  This allows a team to groom eventual replacements and have inexpensive depth on the line.  The Lions lost their first developmental draft pick on the line when the Dolphins claimed Lydon Murtha off the Lions' practice squad in 2009.  They drafted Jason Fox in 2010 and will most likely look at a guard in 2011.  The Lions' front office doesn't anticipate drafting at the top half of the draft anymore, so they may take the opportunity to take a tackle this year.  I think a player like Mike Pouncey could intrigue them since he could step in at guard while also giving the Lions their eventual replacement for Raiola.  Pouncey would be a reach at 13, but a similar player could be found in the 3rd or 4th round.  The Lions starters are solid, so they don't have pressing needs on the line, but they will address depth and the future at some point.